Featured Titles

Featured Creators

Categories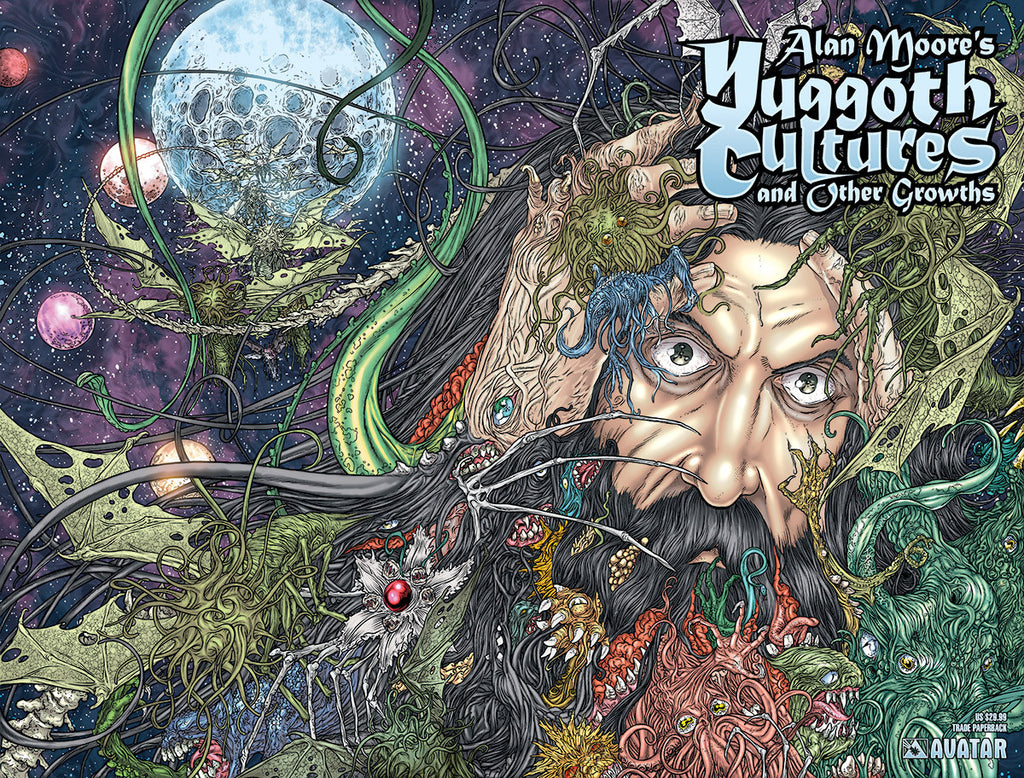 Alan Moore YUGGOTH CULTURES TPB
$29.99
Cover: Juan Jose Ryp
Story: Alan Moore
Art: Ryp, Talbot, Wolfer, Burrows and more
Readership: Mature Readers
Format: B&W, 312 pages

PRODUCT DESCRIPTION: Now 312 pages! The career-spanning short works of Alan Moore are collected here with over 50 pages of additional material that was not in the original mini series as well as over 100 pages of the collected Yuggoth Creatures! Added in are fascinating obscure interviews about the man, his craft, and magic as well as essays from Moore himself and loads of additional new artwork! The magical mind of Alan Moore is unleashed in this tome. Yuggoth Cultures and Other Growths features tons of Alan's classic short sequential comic book stories that have been long out of print, stories that have never before been seen, and special developmental sections with original script pages and comments from Alan and the creators. Include is the amazing Nightjar, a story written 20 years ago to run in legendary British comic anthology Warrior Magazine, but never fully drawn. With art by Bryan Talbot, the first part of the story is finally illustrated and sees print here along with Moore's notes on where the series was originally going to go. As a special bonus, we include Alan's original script. Also included is the story Zaman's Hill, originally written for Moore's aborted novel titled Yuggoth Cultures, now seen in sequential form by master illustrator Juan Jose Ryp! Furthermore, two long lost collaborations with Bryan Talbot, the classic Itchy Peterson story illustrated by Val Semieks, a short story drawn by Mike Wolfer, a short adapted by Antony Johnston and illustrated by Marat Mychaels, and story by Hunt Emerson, and another Lovecraftian story illustrated by Jacen Burrows! Rounding out the works is a piece that is vital to any fan's Alan Moore collection, 'I Keep Coming Back' with art by Oscar Zarate. This powerful story set in Whitechapel is a Coda to the masterpiece From Hell! Of course, all the material is written by Alan Moore himself! This massive volume has an extensive interview with Moore as he discusses Yuggoth Cultures, the stories inside, and some of the amazing tales the lead to their creation as well as the real magic behind the works. As if that wasn't enough, Antony Johnston's Yuggoth Creatures, a work inspired by Yuggoth Cultures and the worlds of HP Lovecraft, is included and features all-star art by Juan Jose Ryp, Jacen Burrows, Dheeraj Verma, and many more along with copious notes on the Lovecraftian origins of the tales. Also available as a hardcover edition limited to 1000 copies with a new cover by artist Juan Jose Ryp.
Release Date: