Featured Titles

Featured Creators

Categories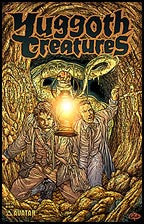 YUGGOTH CREATURES #1
$5.00
YUGGOTH CREATURES #1
Retail Price: $3.99 US
Cover: Juan Jose Ryp
Story: Antony Johnston
Art: Ryp, Burrows, Wolfer, Martin
Readership: Mature Readers
Format: B&W, 40 pages, monthly 1 of 3

PRODUCT DESCRIPTION: First there was Alan Moore's Yuggoth Cultures, now Antony Johnston carries on the Lovecraftian spirit with Yuggoth Creatures! Read the incredible memoirs of Anders Ericsson, Professor of Anthropology at the notorious Miskatonic University in Arkham! Join the Professor as he starts an amazing journey through the Lovecraft mythos, from the queer inhabitants of New Surrey to disaster on the ocean at the hands of unseen forces, and the mysterious Dagon... Can he stay sane in the face of the universe's secret history? Six all-new Lovecraft Mythos stories from the pen of Antony Johnston are illustrated by an awesome collection of today's hottest artists, including Juan Jose Ryp, Jacen Burrows, Matt Martin, Mike Wolfer, Sebastian Fiumara and more!

Release Date: Jan-01-2014