Featured Titles

Featured Creators

Categories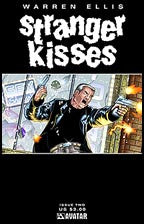 Warren Ellis' Stranger Kisses #2
$8.00
Writer: Warren Ellis
Artwork: Mike Wolfer
Readership: Mature Readers
Format: B&W, 32 pages, monthly 2 of 3

PRODUCT DESCRIPTION: Warren Ellis' messy masterpiece continues! Disgraced SAS operative and combat magician William Gravel knows where the ultimately rich and powerful in LA get their lovers from. And it's not just plastic surgery that makes them stand out from the regular-issue Hollywood whores and hopefuls. Some people like their kisses stranger than that and they don't need Gravel finding out how strange. So they're going to kill him. And they're going to use an entire city to do it. High-adrenaline action and disgusting new ideas from the most bleeding- edge writer in the industry!
Release Date: Jan-01-2014