Featured Titles

Featured Creators

Categories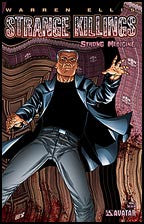 Warren Ellis' Strange Killings: Strong Medicine #3
$8.00
Warren Ellis' STRANGE KILLINGS: Strong Medicine #3
Retail Price: $3.50 US
Cover: Mike Wolfer
Story: Warren Ellis
Art: Mike Wolfer
Readership: Mature Readers
Format: B&W, 32 pages, monthly 3 of 3

PRODUCT DESCRIPTION: Warren Ellis' Combat Magician William Gravel may have a bigger problem than he can deal with. London is consumed by race riots and the hatred has spread to even the police who are now fighting each other. Gravel has finally figured out who is behind it all, but it turns out to be the one person he prayed wouldn't be involved. Someone with more experience than Gravel himself has. The horrific conclusion is finally here, not for the faint of heart.

Release Date: Jan-01-2014