Featured Titles

Featured Creators

Categories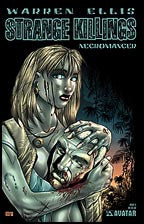 Warren Ellis' STRANGE KILLINGS: Necromancer #5
$8.00
Warren Ellis' STRANGE KILLINGS: Necromancer #5
Retail Price: $3.50 US
Cover: Mike Wolfer
Story: Warren Ellis
Art: Mike Wolfer
Readership: Mature Readers
Format: B&W, 32 pages, monthly 5 of 6

PRODUCT DESCRIPTION: The action heats up in the penultimate issue of Ellis' and Wolfer's latest brutal series featuring combat magician William Gravel! Trapped with an innocent reporter in the jungles of the Philippines, Gravel has figured out the secret of the island and why the British government wants it kept hidden from the rest of the world. But that won't help him fight the zombie horde that is closing in on him and the woman who means more to him than he will admit.

Release Date: Jan-01-2014