Featured Titles

Featured Creators

Categories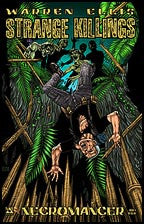 Warren Ellis' STRANGE KILLINGS: Necromancer #4
$8.00
Warren Ellis' STRANGE KILLINGS: Necromancer #4
Retail Price: $3.50 US
Cover: Mike Wolfer
Story: Warren Ellis
Art: Mike Wolfer
Readership: Mature Readers
Format: B&W, 32 pages, monthly 4 of 6

PRODUCT DESCRIPTION: Ellis and Wolfer return for another brutal series featuring combat magician William Gravel! Against a setting of primal, tropical beauty, they move; flesh upon flesh, satisfying their animalistic, carnal desires... Before devouring one another in a shocking orgy of blood! These are the undead, the twisted products of a demented madman. Mankind's only hope of containing the curse of the living dead lies in the hands of one very special man: A combat magician. Disobeying his primary objective and determined to uncover the scientific source of the zombie horde, Sergeant Major William Gravel moves closer to discovering the truth... and will also find that the jungle is a very lonely place to die.

Release Date: Jan-01-2014