Featured Titles

Featured Creators

Categories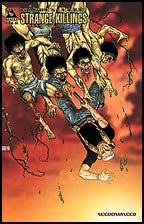 Warren Ellis' STRANGE KILLINGS: Necromancer #3
$8.00
Warren Ellis' STRANGE KILLINGS: Necromancer #3
Retail Price: $3.50 US
Cover: Mike Wolfer
Story: Warren Ellis
Art: Mike Wolfer
Readership: Mature Readers
Format: B&W, 32 pages, monthly 3 of 6

PRODUCT DESCRIPTION: Ellis and Wolfer return for another brutal series featuring combat magician William Gravel!
On a secluded Philippine island, combat magician William Gravel's female target for assassination has been found. With an army of the undead hungering for their flesh and a renegade British scientist conducting chemical weapon
experiments in the tropical jungle hell, Gravel curiously chooses to let her live. But as they fight for their lives against overwhelming odds, has Gravel postponed the American reporter's death-sentence to exploit her knowledge of the island's secrets... Or is it something more? Only a trip to the Body Orchard can possibly even the odds, but Gravel may only be postponing his own inevitable demise at the hands of the zombie hordes.

Release Date: Jan-01-2014