Featured Titles

Featured Creators

Categories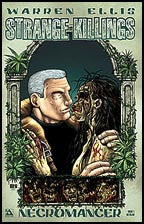 Warren Ellis' STRANGE KILLINGS: Necromancer #1
$8.00
Warren Ellis' STRANGE KILLINGS: Necromancer #1
Retail Price: $3.50 US
Cover: Mike Wolfer
Story: Warren Ellis
Art: Mike Wolfer
Readership: Mature Readers
Format: B&W, 32 pages, monthly 1 of 6

PRODUCT DESCRIPTION: Ellis and Wolfer return for another brutal series featuring combat magician William Gravel!
Something with the unholy hunger for human flesh lurks in the Philippine jungle, a horror whose global political ramifications could shake the British government to its very foundation. But eradicating its trail from England is not
Sergeant Major William Gravel's assignment. Curiously, the S.A.S.'s top combat magician has been given the seemingly simple task of assassinating one investigative reporter. Before this dark mission's end, however, Gravel's morality as a man will be put to the ultimate test and thrust him into a fight for his life against an army of the undead and quite possibly his very own countrymen.
Release Date: Jan-01-2014