Featured Titles

Featured Creators

Categories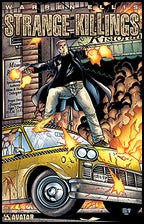 Warren Ellis' Strange Killings: Body Orchard #2
$8.00
Warren Ellis' STRANGE KILLINGS: The Body Orchard #2
Retail Price: $3.50 US
Cover: Mike Wolfer
Writer: Warren Ellis
Artist: Mike Wolfer
Readership: Mature Readers
Format: B&W, 32 pages, monthly, 2 of 6

PRODUCT DESCRIPTION: Warren Ellis continues to shock with Strange Killings! William Gravel is supposed to be in Britain, resuming his duties -- but he's still in NYC, trying to work out why his old SAS team seems to be committing atrocities on American soil -- and running the risk of being suspected of them himself, being the only SAS man in a city reeling from killings with an SAS signature... With his team apparently out of control and contact, Gravel finds himself on the wrong end of everything and every turn simply offers more questions. Do the members of Alpha One Four know the answer to the greatest combat magician secret, what is the Body Orchard?
Release Date: Jan-01-2014