Featured Titles

Featured Creators

Categories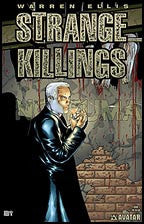 Warren Ellis' Strange Killings #1
$8.00
Warren Ellis' STRANGE KILLINGS #1
Retail Price: $3.50 US
Cover: Mike Wolfer
Writer: Warren Ellis
Artist: Mike Wolfer
Readership: Mature Readers
Format: B&W, 32 pages, monthly, 1 of 3


PRODUCT DESCRIPTION: It's never a dull day being a magician and even more thrilling when Warren Ellis unleashes the next of the disturbed stories of William Gravel. From the fan favorite creative team that brought you Strange Kiss and Stranger Kisses comes the next horrific chapter, Strange Killings! For the second time in history, the British Government sends in its crack troops, the Special Air Service, to quell a major prison riot. But not even these, the most accomplished and frightening soldiers on Earth, are equipped to face what lies at the center of the prison, the heart of the riot. In fact the only man in the SAS qualified to deal with the horror within is the recently disgraced Sergeant Major William Gravel: combat magician.
Release Date: Jan-01-2014