Featured Titles

Featured Creators

Categories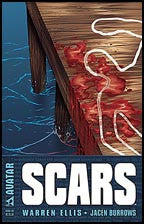 Warren Ellis' Scars #6
$3.50
Warren Ellis' SCARS #6
Retail Price: $3.50 US
Cover: Jacen Burrows
Writer: Warren Ellis
Artist: Jacen Burrows
Readership: Mature Readers
Format: B&W, 32 pages, monthly, 6 of 6

PRODUCT DESCRIPTION: This is it, the dynamic conclusion to Warren Ellis' brilliant crime opus, Scars, with the stunning art of Jacen Burrows! John Cain has been forced into the impossible position of having to watch a horrible man go free, the law can't touch him. But John can't so that, he has promised to bring the child killer to justice, by any means. He is sure this is the right man, but the evidence says otherwise. Does John go with his gut instinct, or follow the law he has pledged to serve? Which path brings true justice to little girl he found carved up?

Release Date: Jan-01-2014