Featured Titles

Featured Creators

Categories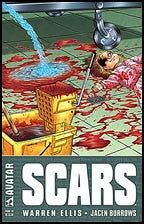 Warren Ellis' Scars #2
$3.50
Warren Ellis' SCARS #2
Retail Price: $3.50 US
Cover: Jacen Burrows
Writer: Warren Ellis
Artist: Jacen Burrows
Readership: Mature Readers
Format: B&W, 32 pages, monthly, 2 of 6

PRODUCT DESCRIPTION: Warren Ellis serves up his long-awaited brilliant crime opus, Scars, with the stunning art of Jacen (Dark Blue, Bad World) Burrows! John Cain is a hard man. Years of working Homicide would do that to anyone. But when he has to tell a family about the horrific death of their daughter, it becomes emotionally overwhelming. Today, he found out the young girl was tortured, mutilated and beaten for weeks on end, and somehow still alive when the killer disassembled her to fit into boxes. It was the first crime from a man teaching himself to become a monster. And he liked it. Cain will find the killer using any means necessary. And the killer will not get away with it. Whatever happens. How much of a monster do you have to become to hunt monsters? A crime novel in six issues by Warren Ellis & Jacen Burrows.

Release Date: Jan-01-2014