Featured Titles

Featured Creators

Categories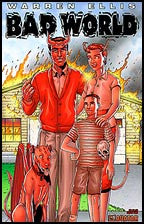 Warren Ellis' Bad World #2
$5.00
WARREN ELLIS' BAD WORLD #2
Retail Price: $3.50 US
Cover: Jacen Burrows
Writer: Warren Ellis
Artist: Jacen Burrows
Readership: Mature Readers
Format: B&W, 32 pages, monthly 2 of 3

PRODUCT DESCRIPTION: Warren Ellis continues his warped look at the strangest people on the fringes of the world around us. Unleashed by the creative team of the critically acclaimed Dark Blue, Bad World is a three issue decent into the foulest reaches of the world we live in. From the criminally insane to the staggeringly deviant, Ellis and Burrows deliver a series that promises to verbally stun and artistically overwhelm you. A great book about a Bad World. The stunning hyper-detailed art by Jacen Burrows is clearly the finest of his career. Also available in an eye-popping wraparound cover!
Release Date: Jan-01-2014