Featured Titles

Featured Creators

Categories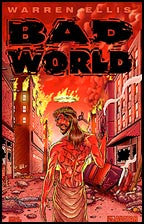 Warren Ellis' Bad World #1
$3.50
WARREN ELLIS' BAD WORLD #1
Retail Price: $3.50 US
Cover: Jacen Burrows
Writer: Warren Ellis
Artist: Jacen Burrows
Readership: Mature Readers
Format: B&W, 32 pages, monthly 1 of 3

PRODUCT DESCRIPTION: Warren Ellis unleashes his latest masterpiece! From the creative team of the critically acclaimed Dark Blue, comes a three issue decent into the foulest reaches of the world we live in. A world of beauty in the eyes of many, but to bleeding-edge writer Warren Ellis, a world filled with evil, sin, decay and filth. A Bad World indeed. In this mini series, Ellis explores the far edges of humanity, the people who are hanging to reality by the thinnest of threads, and those that are simply off their rockers. Stunning hyper-detailed art by Jacen Burrows. Also available in an eye-popping wraparound cover!
Release Date: Jan-01-2014