Featured Titles

Featured Creators

Categories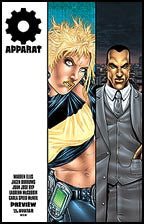 Warren Ellis' APPARAT Preview
$6.00
Warren Ellis' APPARAT Preview
Retail Price: $1.99 US
Cover: Jacen Burrows and Juan Jose Ryp
Story: Warren Ellis
Art: Burrows, Ryp, McCubbin, McNeil
Readership: All Ages
Format: B&W, 16 pages

PRODUCT DESCRIPTION: Get a sneak peek at what is sure to be one of the most talked about events of winter 2004, Warren Ellis' new line of one shot books, Apparat! All the issues feature new characters and stories written by Ellis and featuring top indy artists Jacen Burrows, Juan Jose Ryp, Laurenn McCubbin, and Carla Speed McNeil. This special preview book features pages from each of the first four titles as well as all-new essays from Ellis about each one!

Release Date: Jan-01-2014