Featured Titles

Featured Creators

Categories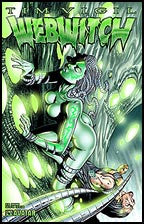 Tim Vigil's Webwitch Companion Cave of Evil
$6.00
Tim Vigil's WEBWITCH Companion Cave of Evil Edition
Retail Price: $5.95 US


Cover: Matt Martin
Writer/Artist: Tim Vigil
Readership: Mature Readers
Format: B&W, 16 pages

PRODUCT DESCRIPTION: Matt Martin provides this stunning new cover. Tim Vigil's all new Webwitch series is coming soon, and this special Companion provides a special new prelude story! That's right, an exclusive lead-in to the #1 issue can only be found in this limited Webwitch Companion featuring luscious art by the one and only Tim Vigil. This book also includes a special look at the characters of the upcoming series and at the Webwitch adventures before now. For Webwitch and Tim Vigil fans, this is a book you don't want to miss! This special edition is limited to just 1500 copies.


Release Date: Jan-01-2014