Featured Titles

Featured Creators

Categories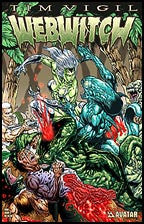 Tim Vigil's Webwitch #2 - Vigil
$5.00
Tim Vigil's WEBWITCH #2 - Vigil
Retail Price: $3.50 US
Cover: Tim Vigil
Artist/Writer: Tim Vigil
Readership: Mature Readers
Format: B&W, 32 pages, monthly 2 of 3

PRODUCT DESCRIPTION: Fans of horror rejoice, because Vigil is back and better than ever! In this action packed issue, Nina the Webwitch leads the Marines assault on the Spidernation hidden cave. But things go from bad to worse as they underestimate the power of the monsters inside and the Queen takes the Marine Captain for her mate! Total Vigil-enhanced carnage from cover-to-cover inside this stunning work that has been five years in the making! This three issue Webwitch series is completely self-contained and accessible to the new reader.

Release Date: Jan-01-2014