Featured Titles

Featured Creators

Categories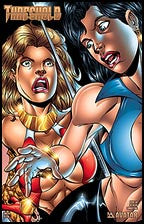 Threshold #50 Connecting Cover
$9.00
THRESHOLD #50 Connecting cover
Retail Price: $8.95 US
Cover: Marat Mychaels
Story/Art: Juan Jose Ryp, Marat Mychaels, Rafa Lopez
Readership: Mature Readers
Format: B&W, 64 pages square bound, quarterly

PRODUCT DESCRIPTION: The sixth and final part of the giant Marat Mychaels connecting cover set on Threshold #45-50 is available here, with the fateful first meeting of Demonslayer and Pandora! To celebrate Threshold's amazing 50 issues, this special line-up of talent has ballooned the issue to a massive five stories packed in a 64 page deluxe square bound format! This exclusive new cover is limited to just 750 copies.

Release Date: Jan-01-2014