Featured Titles

Featured Creators

Categories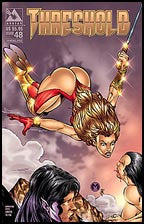 Threshold #48 - Demonslayer Connecting Cover
$8.00
THRESHOLD #48 - DEMONSLAYER connecting cover
Retail Price: $5.95 US
Cover: Marat Mychaels
Artists: Marat Mychaels, Dan Parsons, Ivan Abraini
Readership: Mature Readers
Format: B&W, 48 pages, quarterly series

PRODUCT DESCRIPTION: Marat Mychaels and his creation Demonslayer continue her extended run in Threshold with some unusual demon trouble. It seems that the Roman Catholic church has some unexpected visitors underneath Vatican City and Jaclyn may be the only one who can help. But when her old foe Irkala turns out to be behind it all, the sparks really start to fly! Marat Mychaels' Demonslayer has been heating up the pages of Threshold for the past several issues. Now available for the first time is each chapter of the Demonslayer saga in this special connecting cover. There will be one of these connecting covers on each of the first six issues of Threshold with Demonslayer that are all beautiful works of art on their own, but combine to create one huge image! This special edition is limited to just 750 copies.

Release Date: Jan-01-2014