Featured Titles

Featured Creators

Categories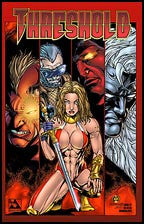 Threshold #47 - Demonslayer
$8.00
THRESHOLD #47 - DEMONSLAYER cover
Retail Price: $4.95 US
Cover: Marat Mychaels
Artists: Marat Mychaels, Phil Xavier, Ivan Abraini
Readership: Mature Readers
Format: B&W, 48 pages, bi-monthly series

PRODUCT DESCRIPTION: Super-star Marat Mychaels and his creation Demonslayer continue her extended run in Threshold with some unusual demon trouble. It seems that the Roman Catholic church has some unexpected visitors underneath Vatican City and Jaclyn may be the only one who can help. But when her old foe Irkala turns out to be behind it all, the sparks really start to fly! Writer Robert Lugibihl and artist Phil Xavier conclude the stunning tale of Pandora's past, where her torrid love affair with Alexander the Great turns horribly bitter and the Girl of Myth is forced to make some very tough choices! Italian artist sensation Ivan Abraini returns to the Lookers in this new short story by Robert Lugibihl that has the investigative sisters looking into an abduction by an all-woman biker gang! Threshold continues bi-monthly with top flight creators and as the longest running American anthology.

Release Date: Jan-01-2014