Featured Titles

Featured Creators

Categories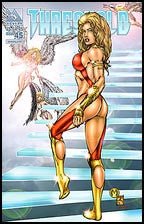 Threshold #45 - Demonslayer cover
$10.00
THRESHOLD #45 - DEMONSLAYER cover
Retail Price: $4.95 US
Cover: Marat Mychaels
Artists: Marat Mychaels, Phil Xavier, Ivan Abraini
Readership: Mature Readers
Format: B&W, 48 pages, bi-monthly series

PRODUCT DESCRIPTION: By fan demand, Marat Mychaels's Demonslayer comes to the pages of Threshold! This first chapter of a six part serial launches Jacyln the Demonslayer into her spiciest adventure yet. Her innocent trip to Rome turns into a whirlwind of trouble as she discovers horrific demon trouble in the catacombs under the Vatican! Also in this issue, the Lookers have their hands full with a convent full of twisted nuns in a story by Robert Lugibihl and newcomer artist Ivan Abraini. Pandora rounds out this issue with a new story of her past by Robert Lugibihl and Phil Xavier as she finds herself in a passionate love affair with Alexander the Great. But Alexander's mother will stop at nothing to see Pandora dead. Threshold continues bi-monthly as the longest running American anthology.

Release Date: Jan-01-2014