Featured Titles

Featured Creators

Categories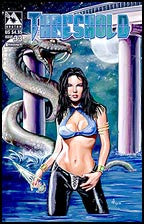 Threshold #33 - Pandora Cover
$10.00
Cover: Ed Gragg
Writers: Christensen & Seifert
Artists: Rick Lyon, Mike Delaney, Brian LeBlanc
Readership: Mature Readers
Format: B&W, 48 pages, monthly series

The longest still-running American anthology continues! Pandora returns this month in the beginning of a new tale of the Girl of Myth with art by Avengelyne super-star Rick Lyon! The news of Pandora being alive in modern day has spread and her new found fame has brought her some new found enemies, ones that sheer force may not be able to stop. Brian LeBlanc returns to the pages of Threshold this month with Tundra, an all-new character and story. Medora continues her adventures with the continuing awesome art of Mike Delaney. Medora is caught by the law as Amy is held captive by a shady boyfriend, one who has a nasty video habit. Threshold continues to be the best title for mature stories by premiere talent!
Release Date: Jan-01-2014