Featured Titles

Featured Creators

Categories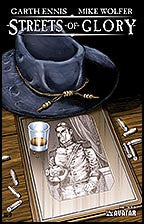 STREETS OF GLORY #2 Platinum Foil Edition
$6.00
Platinum Foil Edition
Cover: Mike Wolfer
Writer: Garth Ennis
Art: Mike Wolfer
Readership: MR
Format: Full Color, 32 pages, monthly, 2 of 6

PRODUCT DESCRIPTION: Garth Ennis' Western epic continues! As hardened as the majestic Rocky Mountains that rise in the distance, the frontier town of Gladback, Montana is the last place Colonel Joseph Dunn would imagine he would meet his destiny. Just this side of lawlessness, Gladback has seen its share of drifters, passing settlers and those looking for a nice, quiet place to die, but never has it seen the likes of Dunn, whose command on the battlefields of the Civil War is the stuff of legend. As Dunn becomes reacquainted with an old friend and an old love thought long lost, the mystery of the Colonel's illustrious past begins to be revealed. But there are others in Gladback who bear close watching, their fascination with Dunn running much deeper than superficial admiration for the soldier. And before Dunn's first night in Gladback is over, the torturous and barbaric ravaging of one of the town's residents will leave all in shock... All save Dunn, who knows who committed the heinous act; a man that Colonel Joseph Dunn has spent much of his life tracking and who he has sworn to kill with his own hands. Ennis teams with Mike Wolfer for this epic full color series that promises to thrill every fan of Garth's powerful story-telling and brutal violence. This issue is available with a regular or wraparound cover by series artist Mike Wolfer.
Release Date: Jan-01-2014