Featured Titles

Featured Creators

Categories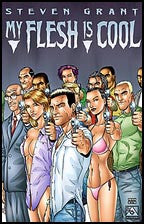 Steven Grant's My Flesh is Cool Preview
$3.00
Steven Grant's MY FLESH IS COOL Preview
Retail Price: $1.99 US
Cover: Jacen Burrows
Writer: Steven Grant
Artist: Sebastian Fiumara
Readership: Mature Readers
Format: B&W, 16 pages

PRODUCT DESCRIPTION: This summer, Steven Grant, the man who showed Marvel how to do the Punisher, unleashes a new breed of killer. Who is Evan Knox? Anyone he wants to be. How do you catch a killer who can jump into any body he wants, do anything he desires, and escape without a trace? The only evidence of his presence is the poor confused owner of the body holding the literal smoking gun wondering what just happened. As for Evan, he's just chillin' in safety, the only indication of his departure is that the mindjump makes his body tempiture drop. This specially priced preview book gives you a chunk of finished pages along with tons of behind-the-scenes work by Steven Grant and his stunning new artistic discovery Sebastian Fiumara.

Release Date: Jan-01-2014