Featured Titles

Featured Creators

Categories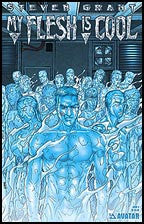 Steven Grant's MY FLESH IS COOL #3
$5.00
Steven Grant's MY FLESH IS COOL #3
Retail Price: $3.50 US
Cover: Jacen Burrows
Story: Steven Grant
Art: Sebastian Fiumara
Readership: Mature Readers
Format: B&W, 32 pages, monthly 3 of 3

PRODUCT DESCRIPTION: Funloving contract killer Evan Knox never fails and has a knack for leaving no evidence tying him to any hit, and no one can figure out how he does it. Now he's the one being hunted, by someone who'll stop at nothing to get his secret. Only Evan understands the revelation could spell the end of civilization. Only he can stop it. But survival itself is out of his reach, as he's betrayed by the last person in the world he'd ever suspect. A sci-fi action thriller with twists you won't believe, from Steven Grant and Sebastian Fiumara.

Release Date: Jan-01-2014