Featured Titles

Featured Creators

Categories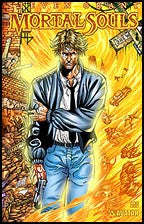 Steven Grant's Mortal Souls #3A
$5.00
Steven Grant's MORTAL SOULS #3A
Retail Price: $3.50 US
Cover: Philip Xavier
Writer: Steven Grant
Artist: Philip Xavier
Readership: Mature Readers
Format: B&W, 32 pages, monthly, 3 of 3

PRODUCT DESCRIPTION: Steven Grant's horrific crime masterpiece comes to its terrifying conclusion. Detective Eric Sharpe has finally put the pieces together and now realizes the enormity of the problem the husks of the dead and one of their leaders, Traduce, pose to the living. But as the only person who can see their true selves, he is having a hard time convincing others of the problem. In fact, Sharpe's own partner is defending Traduce to the death and now Eric must decide if he is willing to cut a swath of death through the living in order to eliminate the dead! Along with French superstar artist Phil Xavier, Steven Grant is continuing to push the envelope of the genre and you don't want to miss this explosive conclusion!

Release Date: Jan-01-2014