Featured Titles

Featured Creators

Categories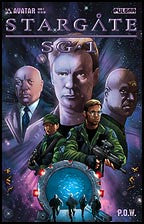 STARGATE SG-1: POW #2
$3.50
STARGATE SG-1: POW #2
Retail Price: $3.50 US
Cover: Renato Guedes
Story: James Anthony
Art: Renato Guedes
Readership: all ages
Format: Full color, 32 pages, monthly 2 of 3

PRODUCT DESCRIPTION: Join Jack O'Neill, Teal'c, Samantha Carter, and Daniel Jackson as they take the greatest sci-fi show on television into the world of comics! Colonel Jack O'Neill is a Goa'uld prisoner of war. The SGC is under lockdown. An alien device threatens to turn Cheyenne Mountain into a smoking crater. It's a race against time as General Hammond and the rest of the SG-1 team try to find a way to rescue O'Neill and disarm the Goa'uld doomsday device. This special issue introduces readers to the rich back-story of the Stargate universe and the SG-1 team as well as cranks up the tension!

Release Date: Jan-01-2014