Featured Titles

Featured Creators

Categories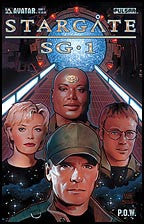 STARGATE SG-1: POW #1 Gold Foil
$9.99
STARGATE SG-1: POW #1 Gold Foil
Retail Price: $9.99 US
Cover: Matt Busch
Story: James Anthony
Art: Renato Guedes
Readership: all ages
Format: Full color, 32 pages, monthly 1 of 3

PRODUCT DESCRIPTION: Amazing warehouse find! These limited gold foils have never been offered in Previews before! Reconnaissance has discovered an alien invasion force with plans of conquest for planet Earth. Caught in a firefight, the escaping team from Stargate Command unknowingly allows a mysterious serpent-headed Goa'uld Lord access into the SGC. The invaders lay waste to the debarkation chamber, while locking a naquadah-laced bomb onto the Stargate. In the resulting attack, Colonel Jack O'Neill finds himself on a distant world, face to face with a thousand Goa'uld warriors. With the SGC under lockdown and O'Neill already a prisoner of war, the SG-1 team must find a way to remove a doomsday bomb from the gate and rescue him from a Goa'uld fortress. This Gold foil is limited to 500 copies, all ship bagged and boarded with a certificate of authenticity.

Release Date: Jan-01-2014