Featured Titles

Featured Creators

Categories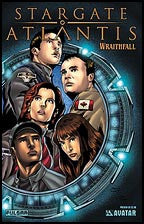 Stargate Atlantis Preview
$2.50
Stargate Atlantis Preview
Retail Price: $2.50 US
Cover: Mauricio Melo
Story: Stuart Moore
Art: Mauricio Melo
Readership: All ages
Format: B&W, 16 pages

PRODUCT DESCRIPTION: Don't miss this special look at this summer's biggest licensed comic book launch! This special limited edition preview offers a behind-the-scenes look at the creation of the new Stargate Atlantis comic and the first series, Wraithfall! The new top-rated SciFi Channel series comes to comics! Stationed thousands of light-years from Earth, the team from Stargate Atlantis has a whole new galaxy to explore...but most of those worlds are under siege by the Wraith, an ancient and deadly vampire-race. In Wraithfall, the Atlantis team meets the Karrans, a primitive race that has made a bizarre deal with the Wraith. Major Sheppard is determined to stop the Wraith at any cost...but can he do it without destroying the Karrans' lives? This Preview is limited to just 5000 copies. Available in regular, painted and photo covers.

Release Date: Jan-01-2014