Featured Titles

Featured Creators

Categories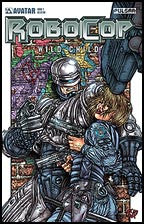 ROBOCOP: Wild Child #1
$4.00
ROBOCOP: Wild Child #1
Retail Price: $2.99 US
Cover: Juan Jose Ryp
Story: Steven Grant
Art: Carlos Ferreira
Readership: MR
Format: Full color, 16 pages, one shot

PRODUCT DESCRIPTION: Robocop and Office Lewis meet the threat they never expected - Officer Lewis' sister! Robocop super-scribe Steven Grant and new artist Carlos Ferreira serve up this one shot story that puts Officer Lewis front-and-center of the action. A badass young woman, who calls herself Heaven, and her gang swing into Detroit to take advantage of the general lack of authority -- the cops are still on strike, city government might as well not exist, OCP is defunct -- to make their mark. They run recklessly over everyone and everything until Robocop crosses their path, and then Heaven dedicates herself to making him pay for getting in their way. This gets complicated for Lewis, because Heaven is her little sister, who, always spoiled and uncontrollable, ran away years ago. Things come to a head when Heaven traps Robocop and plans to take his head for a souvenir, and it falls to Lewis to save him, but it looks like the only way she can do that is to kill Heaven! This issue is available in regular, wraparound and Sibling Rivalry covers all by Juan Jose Ryp as well as a photo cover.

Release Date: Jan-01-2014