Featured Titles

Featured Creators

Categories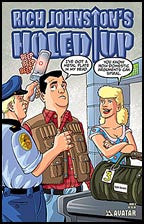 Rich Johnston's HOLED UP #3
$3.50
Rich Johnston's HOLED UP #3
Retail Price: $3.50 US
Cover: Gonzalo Martinez
Story: Rich Johnston
Art: Gonzalo Martinez
Readership: Mature Readers
Format: B&W, 32 pages, 3 of 3

NOTE: This item is resolicited from a previous month. If you have ordered it from Comic Cavalcade previously, that order is still active and you do not have to place an order for this item again unless you want additional copies.

PRODUCT DESCRIPTION: Re-solicited. Rich Johnston, gossip columnist for Lying In The Gutters, continues this dark family survivalist sitcom as moves to a new level of insanity. Dropped in the Middle East by a President who got the idea from a film, the Holed Family continue their reign of terror across Saudi Arabia, Iraq and Iran blowing up anyone who looks slightly shifty. Which, as far as they're concerned, means practically everyone. As the Holeds come face to face with their "enemy", what will their learn about the human condition? This is the conclusion of Rich Johnston's dissection of the "All American Family" in this controversial yet warm-hearted series full of insanity, black humor, and jokes of generally poor taste. Available in regular and Homeland Security covers by Gonzalo Martinez.

Release Date: Jan-01-2014