Featured Titles

Featured Creators

Categories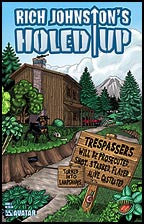 Rich Johnston's HOLED UP #2
$3.50
Rich Johnston's HOLED UP #2
Retail Price: $3.50 US
Cover: Gonzalo Martinez
Story: Rich Johnston
Art: Gonzalo Martinez
Readership: Mature Readers
Format: B&W, 32 pages, monthly 2 of 3

PRODUCT DESCRIPTION: The most-read Internet comic columnist, Rich Johnston, is now serving up his all-new all-twisted humor series! Is the replacement postman really a Fed in disguise? Is torture the only way to get at the truth... or is it just fun? Remember, the family that flays together, stays together. But when the feds mount a siege of the Holed family's shack in Idaho, it looks like history is about to repeat itself. Rich Johnston, gossip columnist for Lying In The Gutters, continues this dark family survivalist sitcom as moves to a new level of insanity.

Release Date: Jan-01-2014