Featured Titles

Featured Creators

Categories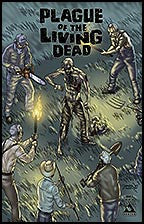 PLAGUE OF THE LIVING DEAD #6
$3.00
Cover Art: Jacen Burrows
Writer: John Russo
Art: Dheeraj Verma
Readership: MR
Format: Full Color, 16 pages, 6 of 6

PRODUCT DESCRIPTION: They fought in the jungles of Vietnam and witnessed, first-hand, undead US Army soldiers decimating the enemy. They returned to Stone Mountain, Virginia to find that same, sickening horror has overtaken their home town and devoured their families. And now, trapped within a school gymnasium, a trio of Vietnam veterans must make the ultimate choice: Stay in the questionable safety of the gym and pray for rescue... Or run, before the building is overtaken by the army of zombies waiting outside its doors. But running means leaving behind the other survivors with whom they have taken refuge, a terrified group who look to the heavily armed soldiers to defend them from the PLAGUE OF THE LIVING DEAD. The nerve-shattering climax, the fate of the soldiers and their ultimate decision will leave you breathless. And if you think you've guessed the ending of this 6-issue terror-thon, think again! It's a shocker that you won't soon forget! As well as the standard cover by super-star Jacen Burrows, this issue is available with a Wraparound, Terror, Rotting and Gore cover by series artist Dheeraj Verma and a painted cover by Lucio Rubira.
Release Date: Jan-01-2014