Featured Titles

Featured Creators

Categories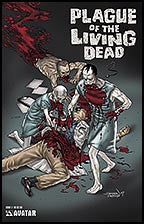 PLAGUE OF THE LIVING DEAD #3
$3.00
Cover Art: Jacen Burrows
Writer: John Russo
Art: Dheeraj Verma
Readership: MR
Format: Full Color, 16 pages, 3 of 6

PRODUCT DESCRIPTION: The next major zombie epic continues here at a special price of just $2.50! Following hot on the heels of John Russo's shocking PLAGUE OF THE LIVING DEAD SPECIAL, this blockbuster, 6-issue mini-series begins where the SPECIAL ended, only now you'll get your dose of Avatar zombie mayhem in this 6 issue monthly series. After barely escaping from their military captors, a trio of Vietnam veterans make their way back to their home town of Stone Mountain... But it won't be the homecoming for which they have hoped. A darkness has crept into the town, bringing with it a flesh-ravaging horror which they had witnessed, first-hand, in the jungles of Vietnam... The PLAGUE OF THE LIVING DEAD! Pursued by military police, the soldiers rush headlong into Stone Mountain and into the pit of hell, as they find scores of zombies infesting the town, intend on devouring every living thing in their path. With no weapons and no hope for the survival of the loved ones that they had left behind, only one option remains for the trio... An option that includes destroying every last, stinking zombie they can before being ripped apart by the overwhelming legion of the undead! As well as the standard cover by super-star Jacen Burrows, this issue is available with a Wraparound, Terror, Rotting and Gore cover by series artist Dheeraj Verma and a painted cover by Lucio Rubira.
Release Date: Jan-01-2014