Featured Titles

Featured Creators

Categories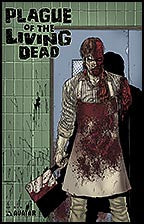 PLAGUE OF THE LIVING DEAD #2
$3.00
Cover Art: Jacen Burrows
Writer: John Russo
Art: Dheeraj Verma
Readership: MR
Format: Full Color, 16 pages, 2 of 6

PRODUCT DESCRIPTION: The next major zombie epic continues here at a special price of just $2.50! With their loved ones fighting an impossible battle against a horde of blood-thirsty zombies, a trio of soldiers realizes that their only hope of returning home alive is to escape incarceration and run for their lives! Recently returned from the war in Vietnam, the soldiers have been locked away on an Army base, under psychiatric evaluation. The true reason for their detainment is the story that they have to tell, of flesh-eating US Army rangers and the reanimation of those rangers' victims... A tale with global political ramifications that must never be revealed. But even if they escape their military captors and return to Stone Mountain, will there be anything left of their families and home town, currently in the death-grip of the PLAGUE OF THE LIVING DEAD? Following hot on the heels of John Russo's shocking PLAGUE OF THE LIVING DEAD SPECIAL, this blockbuster, 6-issue mini-series begins where the SPECIAL ended, only now you'll get your dose of Avatar zombie mayhem in this 6 issue monthly series. As well as the standard cover by super-star Jacen Burrows, this issue is available with a Wraparound, Terror, Rotting and Gore cover by series artist Dheeraj Verma and a painted cover by Lucio Rubira.
Release Date: Jan-01-2014