Featured Titles

Featured Creators

Categories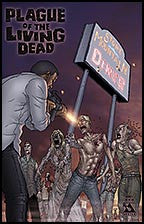 PLAGUE OF THE LIVING DEAD #1
$3.00
Cover Art: Jacen Burrows
Writer: John Russo
Art: Dheeraj Verma
Readership: MR
Format: Full Color, 16 pages, 1 of 6

PRODUCT DESCRIPTION: The next major zombie epic starts here at a special price of just $2.50! They've been beaten, they've been burned, they've had their brains blown out... But this time, nothing will stop them! The zombie assault has reached horrifying proportions, for now it is truly a PLAGUE OF THE LIVING DEAD! Following hot on the heels of John Russo's shocking PLAGUE OF THE LIVING DEAD SPECIAL, this blockbuster, 6-issue mini-series begins where the SPECIAL ended, only now you'll get your dose of Avatar zombie mayhem in this 6 issue monthly series. Held prisoner in their home and awaiting a bloody execution by an unrelenting wave of flesh-eating ghouls, a family in Stone Mountain, Virginia fights for their lives against their undead assailants. There is no way out and no escape... And certain death looms by the rotting hands of an army of corpses. A nearby Army base holds prisoners of its own, however, as three soldiers who faced the terror of the undead plague in the jungles of Vietnam must now find some way to escape their own imprisonment before their knowledge of US Government-sanctioned zombie soldiers dooms the trio to death, as well. As well as the standard cover and Rotting cover by super-star Jacen Burrows, this issue is available with a Wraparound cover by Jeremy Rock, a Terror and Gore cover by series artist Dheeraj Verma, a painted cover by Lucio Rubira, and a special Russo Signed edition which Blood Red Foil edition that comes with a limited poster signed by John Russo.
Release Date: Jan-01-2014