Featured Titles

Featured Creators

Categories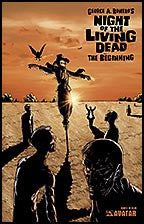 NIGHT OF THE LIVING DEAD: The Beginning #3
$5.00
Cover: Jacen Burrows
Writer: John Russo
Art: Sebastian Fiumara
Readership: MR
Format: Full Color, 32 pages, 3 of 3

PRODUCT DESCRIPTION: The zombie series fans have demanded comes to comics in this fully-authorized series from the original creators, director George A. Romero and co-writer John Russo, and the story everyone was dying to see: a prequel to the original film! Written by Russo and fully-approved by Romero, this is the horror series of the decade from the men who defined the genre! As the Night Of The Living Dead draws nearer, Ben and a group of fellow survivors begin a last-ditch fight for survival against the horde of flesh-devouring ghouls that have trapped them within Beekman's Diner. With panic and distrust dooming them all to a gory death, can Ben rally the frantic patrons into an organized resistance against the zombies... Or will his own fear get the better of him, forcing him to make a drastic decision? This incredible, explosive finale of the NIGHT OF THE LIVING DEAD prequel is not for the weak of heart and serves as a direct introduction to the modern horror film classic! This incredible prequel to the blockbuster classic NIGHT OF THE LIVING DEAD gives new insight into many of the film's characters and locations, including horrific encounters at the farm house and Beekman's diner and introduces us for the first time to The Cemetery Zombie, Sheriff McClellan, and NOTLD hero, Ben! As well as the Standard cover by artist Jacen Burrows, this issue is available with Rotting, Terror, and Splatter Stock covers by series artist Sebastian Fiumara, a Gore cover by fan-favorite Tim Vigil, and a painted cover by Matt Busch!
Release Date: Jan-01-2014