Featured Titles

Featured Creators

Categories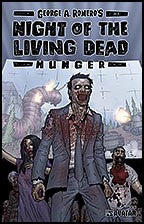 NIGHT OF THE LIVING DEAD: HUNGER
$5.00
Cover Art: Jacen Burrows
Writer: John Russo
Art: Ryan Waterhouse
Readership: MR
Format: Full Color, 16 pages

PRODUCT DESCRIPTION: Before becoming flesh-eating recruits in the horrific army of the undead, each innocent victim of the plague had a personal tale of terror that ended on the NIGHT OF THE LIVING DEAD. Now, for the first time, the story behind one of the classic 1968 film's iconic cannibals has surfaced and you have a front row seat! Starving herself for the sake of vanity, drive-in theater employee Laura Crampton is about to fall victim to stark-raving terror, but it will not been generated by the grade-Z horror film flickering on the outdoor screen. Tonight, blood will flow, lives will be torn asunder and bodies will be ripped apart, all by the hands of the nightmarish horde of zombies that lurk in the shadows on the night that would change the world forever! As well as the standard and Gore covers by super-star Jacen Burrows, this issue is available with a Rotting cover by series artist Mike Wolfer and a painted cover by Lucio Rubira. Also, don?t miss the special Signed edtion that is a limited foil cover packaged with a special Night of the Living Dead poster signed by the master himself, George A. Romero, and is limited to just 750 copies!
Release Date: Jan-01-2014