Featured Titles

Featured Creators

Categories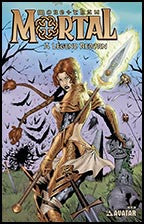 MORE THAN MORTAL: A Legend Reborn
$2.50
Cover: Wellington Alves
Writer: Sharon Scott
Art: Wellington Alves
Readership: All Ages
Format: B&W, 16 pages

PRODUCT DESCRIPTION: The hugely-successful fantasy series More Than Mortal returns at Avatar with original creator and writer Sharon Scott! In ancient Ireland, the land was riddled with both internal clan rivalries, and external invasion -- a time of legends, great warriors, and fierce druidic magic. Although the Tuath gods no longer walked the land, their power and influence still pervaded. The battle between Man and dark Faerie had been waging for decades. The battle came to a head during a bloody siege at a temple in Kildare where Midir and his Faerie horde were devastating the Celtic army. It seemed all was lost -- that an entire people and their way of life would be destroyed. Desperate, a group of druids conjured a powerful spell, a plea to the Land to protect itself. The druids gave birth to a Guardian that day -- a being that emulated the very essence of Ireland and its distinction: beauty, strength, independence. She was an elemental, part of the land, and bound to defend it? she became Brigid The Protector. This special book serves as a re-introduction to the world of More Than Mortal with story-so-far recaps, special unseen preview art, and sneak peaks at the action to come! This issue features regular, wraparound, and Premium covers by series artist Wellington Alves as well as a cover by maestro Juan Jose Ryp!
Release Date: Jan-01-2014