Featured Titles

Featured Creators

Categories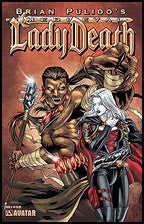 MEDIEVAL LADY DEATH #5
$3.99
Brian Pulido's MEDIEVAL LADY DEATH #5
Retail Price: $3.99 US
Cover: Wellington Alves
Story: Brian Pulido
Art: Wellington Alves
Readership: All ages
Format: Full color, 32 pages, monthly on-going

PRODUCT DESCRIPTION: Brian Pulido's all-ages, monthly fantasy epic continues with its second sense-shattering story arc, featuring art by Wellington Alves. Medieval Europe is threatened by a near immortal race called the Eldritch. Humanity's last hope for survival is Lady Death, an outcast who is half-human, half-Eldritch and all attitude. She is part of both clans, but belongs to neither. Bearing the sword of vengeance, Lady Death roams the medieval realms protecting the very people who fear her. In this issue, Lady Death and Wolf, on the run from Arch bishop Vittorio and his warrior knights, take refuge in a remote mountain villa. They try to rest, only to be attacked by Skold of the assassin's guild: a clan of warriors immune to magic. At the worst possible time, Lady Death's powers fail her causing someone close to her to die! Who is behind this attack? And why? As well as this regular cover, it's also available with a wraparound cover by Ron Adrian, and a special Premium edition with a cardstock cover by Carlos Ferreira.

Release Date: Jan-01-2014