Featured Titles

Featured Creators

Categories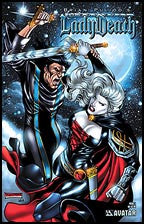 MEDIEVAL LADY DEATH #4
$3.99
Brian Pulido's MEDIEVAL LADY DEATH #4
Retail Price: $3.99 US
Cover: Di Amorim
Story: Brian Pulido
Art: Di Amorim
Readership: All ages
Format: Full color, 32 pages, monthly on-going

PRODUCT DESCRIPTION: Brian Pulido's all-ages, monthly, fantasy epic Medieval Lady Death continues as she battles against a new foe who was tied to her creation. Lady Death is hell-bent on vengeance against Arch Bishop Vittorio and has a knock down-drag out battle to settle with him once and for all. Will the outcome be what she expected or will she learn her greatest lesson of all? In Aglarond, the realm of humanity's foe the Eldritch, Lady Death's father Tvarus battles his brother Thorm for the kingdom's rule. The outcome will spell doom for medieval Europe! This is it, the sense shattering conclusion to the first story arc. As well as this regular cover, it's also available with a wraparound cover by Ron Adrian, and a special Premium edition, limited to 2000 copies with a cardstock cover, by Ron Adrian.

Release Date: Jan-01-2014