Featured Titles

Featured Creators

Categories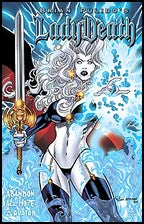 LADY DEATH: Abandon All Hope #1
$3.99
Brian Pulido's LADY DEATH: Abandon All Hope #1
Retail Price: $3.99 US
Cover: Ron Adrian
Story: Brian Pulido
Art: Ron Adrian
Readership: All ages
Format: Full color, 32 pages, monthly, 4 issues

PRODUCT DESCRIPTION: The bitch is back as the original Lady Death returns with an all-new epic! Forget what you think you know. Lady Death is reinvented as the series moves in a terrifying new direction. It is 1000 AD. Europe. To save her mother, Hope renounces her humanity and is sentenced to the Blacklands, a realm where magic and monsters run rampant. Now forged into the cold, cruel and alluring warrior Lady Death, she joins forces with the mysterious Wargoth, and the master thief and spell-caster Satasha. Together they dare the impossible: destroy Sagos, the realm shattering warlock who has kidnaped Lady Death's mother's soul. The fate of the entire realm hangs on her sword. This is cutting edge, epic dark fantasy as only Lady Death creator Brian Pulido can deliver it. Faster your seat belts fiend-boy, this adventure re-defines Lady Death for the next decade! Lady Death never looked so good with stellar art by super-star Ron Adrian and color by Nimbus Studios. As well as this regular cover, it's also available with a wraparound cover by Ron Adrian, a Juan Jose Ryp cover, a special Premium edition, with a cardstock cover, by Paulo Sequeira, and a glow-in-the-dark cover limited to just 1000 copies.

Release Date: Jan-01-2014