Featured Titles

Featured Creators

Categories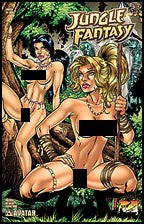 Jungle Fantasy Preview Vixens Nude
$12.00
JUNGLE FANTASY Preview Vixens Nude
Retail Price: $6.00 US
Cover: Ron Adrian
Artists: Al Rio, Sean Shaw
Readership: Mature Readers
Format: B&W, 16 pages

PRODUCT DESCRIPTION: Ron Adrian serves up this sexy new nude cover! The book that every jungle girl fan has been waiting for is here! This special preview book gives fans a sneak-peek at the awesome dinosaur carnage, crazed caveman and bikini clad women inside the regular series that launches soon! This bi-monthly series will be filled with all-new stories and feature such top name creators as Al Rio, Sean Shaw and Ron Adrian! It features the fan-demanded return of Fauna, new characters created by Al Rio, and much more! Jungle Fantasy: welcome to the wild side of comics! This special edition is limited to just 1000 copies.

Release Date: Jan-01-2014