Featured Titles

Featured Creators

Categories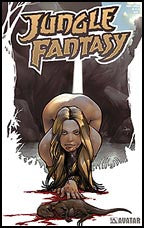 Jungle Fantasy (2002) #4 Cabrera Fauna
$8.00
JUNGLE FANTASY #4 Cabrera Fauna
Retail Price: $3.50 US
Cover: David Cabrera
Story/Art: Di Amorium, Anibal Maraschi
Readership: Mature Readers
Format: B&W, 32 pages, quarterly

PRODUCT DESCRIPTION: The third issue of the ultimate jungle girl book is filled with more action than ever! Doug Miers writes and Di Amorium draws the final chapter of Ivory's first adventure about a prehistoric mother who is forced into action to protect her newborn babe. But when she gets swept up on a strange island, she must worry about saving her own skin first as she gets in the middle of a tribal war! Fauna swings back into action in a short story by new artist Anibal Maraschi! When a hungry dino surprises her, she has only her wits and the environment around her to prevent becoming dinner! For fans of babes, dinos, and jungle action do not want to miss this amazing series!

Release Date: Jan-01-2014