Featured Titles

Featured Creators

Categories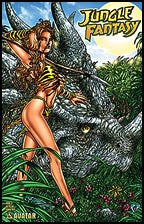 Jungle Fantasy (2002) #3
$8.00
JUNGLE FANTASY #3 Fauna Ryp
Retail Price: $3.50 US
Cover: Juan Jose Ryp
Story/Art: Ron Adrian, Sean Shaw
Readership: Mature Readers
Format: B&W, 32 pages, bi-monthly


PRODUCT DESCRIPTION: The third issue of the jungle book to end them all is filled with more dinosaur action than ever! Doug Miers writes and Ron Adrian draws the next chapter of Ivory about a prehistoric mother who is forced into action to protect her newborn babe. But when she gets swept up on a strange island, she must worry about saving her own skin first! Fauna swings back into action in the next exciting chapter of artist Sean Shaw's lush epic! With her ship wrecked and her rescue party never coming, Fauna is going to have to adjust to life in a Jurassic world. For fans of babes, dinos, and jungle action do not want to miss this amazing series with sultry art by some of greatest artists in the business!

Release Date: Jan-01-2014