Featured Titles

Featured Creators

Categories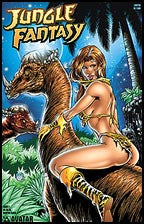 Jungle Fantasy (2002) #1 Martin Fauna
$9.00
JUNGLE FANTASY #1 Martin Fauna
Retail Price: $5.95 US
Cover: Matt Martin
Artists: Al Rio, Juan Jose Ryp
Readership: Mature Readers
Format: B&W, 32 pages, bi-monthly


PRODUCT DESCRIPTION: Matt Martin does it again with this exclusive, luscious new Fauna cover! Clear the way for powerhouse artist Al Rio to return to Avatar interior art with this story introducing the new characters he developed, the Vixens! Set on a planet populated by all the ages of dinosaurs, two young women find themselves trapped in a time long lost. This special first issue also features the fan demanded return in Fauna with art by amazing newcomer Juan Jose Ryp. Your every jungle fantasy is finally granted, with this new ongoing series! Wall-to-wall jungle girl action awaits you with nothing but the greatest artists of the female form! This special edition is limited to just 1000 copies.

Release Date: Jan-01-2014