Featured Titles

Featured Creators

Categories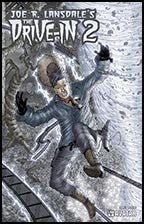 Joe R. Lansdale's THE DRIVE-IN 2 #3
$5.00
Cover: Andres Guinaldo
Story: Joe R. Lansdale
Art: Andres Guinaldo
Readership: Mature Readers
Format: B&W, 32 pages, 3 of 4, monthly

PRODUCT DESCRIPTION: Lansdale lovers rejoice, the team that brought you The Drive-In is back for this sequel to one of horror's most beloved books, The Drive-In 2! Artist Andres Guinaldo returns to bring to life the next chapter of the story about a group of friends who wanted nothing more than to enjoy a day at the movies. But when a comet brought true horror to life, the body count started to mount. Now our intrepid heroes must go back to where the madness began to face down Popalong! This series continues the action, madness, and razor-sharp dialogue Lansdale fans the world over have been waiting for! Available in regular and wraparound covers by Guinaldo.
Release Date: Jan-01-2014