Featured Titles

Featured Creators

Categories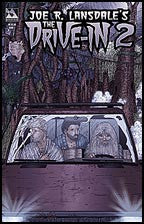 Joe R. Lansdale's THE DRIVE-IN 2 #1
$5.00
Joe R. Lansdale's THE DRIVE-IN 2 #1
Retail Price: $3.50 US
Cover: Andres Guinaldo
Story: Joe R. Lansdale
Art: Andres Guinaldo
Readership: Mature Readers
Format: B&W, 32 pages, 1 of 4, monthly

PRODUCT DESCRIPTION: Lansdale lovers rejoice, the team that brought you The Drive-In is back for this sequel to one of horror's most beloved books, The Drive-In 2! Artist Andres Guinaldo returns to bring to life the next chapter of the story about a group of friends who wanted nothing more than to enjoy a day at the movies. But when a comet brought true horror to life, the body count started to mount. At the end of the last series, they finally got to flee the terror of the Drive-In, only to find the rest of the world had gone just as crazy! This series picks up the action, madness, and razor-sharp dialogue Lansdale fans the world over have been waiting for! Available in regular and wraparound covers by Guinaldo.

Release Date: Jan-01-2014