Featured Titles

Featured Creators

Categories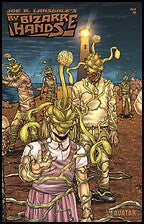 Joe R Lansdale's BY BIZARRE HANDS #4 Connecting
$6.00
Joe R Lansdale's BY BIZARRE HANDS #4 Connecting cover
Retail Price: $5.99 US
Cover: Jacen Burrows
Story: Joe R Lansdale
Art: Andres Guinaldo
Readership: Mature Readers
Format: B&W, 32 pages, monthly 4 of 6

PRODUCT DESCRIPTION: This is the fourth of a six-part connecting cover featuring the World of Joe R. Lansdale! Drawn by super-star artist Jacen Burrows, these limited covers all fit together to form a huge image! One the most popular horror novel writers, Joe R. Lansdale, is unleashed in this all-new series that adapts some of his favorite short stories, all chosen by Lansdale himself, into comic form for the first time. This issue sees the sci-fi / horror tale TIGHT LITTLE STITCHES IN A DEAD MAN'S BACK split open in sequential form with art by Indian superstar Dheeraj Verma. Limited to just 750 copies.

Release Date: Jan-01-2014