Featured Titles

Featured Creators

Categories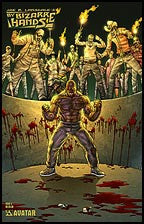 Joe R Lansdale's BY BIZARRE HANDS #3
$5.00
Joe R Lansdale's BY BIZARRE HANDS #3
Retail Price: $3.50 US
Cover: Jacen Burrows
Story: Joe R Lansdale
Art: Andres Guinaldo
Readership: Mature Readers
Format: B&W, 32 pages, monthly 3 of 6

PRODUCT DESCRIPTION: The creative team from the smash hit The Drive-In is together again on this issues tale of horror! One the most popular horror novel writers, Joe R. Lansdale, is unleashed in this all-new series that adapts some of his favorite short stories, all chosen by Lansdale himself, into comic form for the first time. This issue sees THE PIT opened up in sequential form with art by Andres Guinaldo. A brutal town ritual forces two powerful men to battle to the death, or die! With Lansdale's biting wit and razor-sharp dialogue, fans of Garth Ennis are sure to love this new six issue monthly series.

Release Date: Jan-01-2014